"Therefore we do not lose heart....We are being renewed day by day. For our light and momentary troubles are acheiving for us an eternal glory that far outweighs them all." 2 Corinthians 16-17
Amen. It has been easy to be thankful thus far because truly each day His nearness and covering has been known in so many forms. The days are still imperfect for sure and i've had a few grumpy ones to boot FORE sure, but what has been steadfast is a stillness and a peace. We have not been overcome with fear. Phew.
Last week I went for a run on the Burke Gilman Trail and at the end rather than my normal efficient departure onto errands, i felt God saying, run up to the top of the hill, take an extra minute. a non active minute. Easily my feet wound around the trail leading to the top of a little hill at Gas Works Park and I was met with warmth and beauty. I swear ya'll, the clouds made space for the sun and the rays wrapped themselves around me. the mix kept rolling in my ears and the next song up was All I Need Is You Lord. The song is eerily repititive to speak to my busy brain, over and over and over they sing, "All I Need is You Lord... You hold the Universe." Normally this isn't a song i totally get because it seems too extreme... like all i need is you Lord (AND stephen and hannah and a job and a friend and food and clothes and on and on). Then I heard these two lines, "Left my fear by the side of the road, rest in the thought that you are watching over me." And I got it. This is my time to focus, laser focus on who God says he is to me, and if i accept and hold that true, than i would land in a place of peace that the one who holds the Universe has got me covered. He knows my hearts desires and while they are not being granted in my order and timing, I am in His. Oh.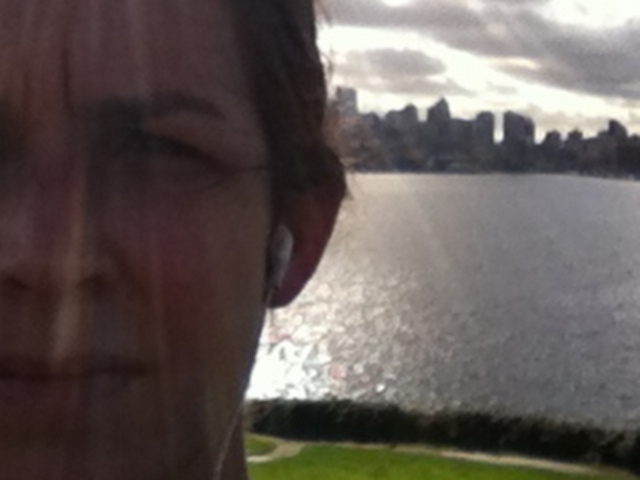 And the next few days continued in the pattern of gifts and tribulations. My parents came and warmed the home and most certainly Hannah's heart. We got the gift of one night in Portland with the Vaughans, to laugh and talk and be a little less responsible (thanks Susu and Ba!) We built fires, tasted good foods, and continued to take one day at a time, with hope always in the wings.